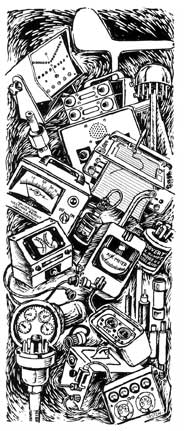 Preface to the Internet Edition, 2010


It has been 30 years since I wrote this book. In the original preface, I wrote that researching, writing, and publishing this book had been one of the most rewarding experiences of my life. Thirty years later, I still feel that way.

The internet version of the book includes all of the text of the book, and approximately half of the photographs.

Many of the people featured in this book are no longer with us. My hope is that some of their children, grandchildren, and perhaps even great-grandchildren will find this on the internet and enjoy hearing their story.

If you have comments or questions, I'd be happy to hear from you. You can reach me at sandersch-at-aol.com . (Substitute the @ sign for "-at-".)

Carol Hastings Sanders

February 2010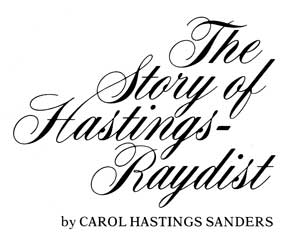 T rying to devise ways to measure the speed of aircraft during World War II, Charles Hastings conceives the idea of an electronics company of his own ...

In 1944 Charles and Mary Hastings start their company in a small workshop in the back of their home ...

A period of explosive growth in the early 1950's is followed by major problems and drastic cutbacks in 1954 ...

The late 1950's bring better times, and Hastings-Raydist begins a period of sustained progress and success ...

In 1968 the company becomes part of Teledyne, Inc. and soon plays an important role in projects as varied as bringing rocks back from the moon and clearing the mines from North Vietnamese harbors ...

In the late 1970's the company begins a new era, as deaths and retirements bring new people into key positions ...

This book captures the spirit of a growing, innovative company. It includes the disappointments as well as the joys, the people as well as the events, and the humorous as well as the serious. It is a story of dedication, determination, and success, told in narrative, in photographs, and often in the words of the people who made it happen.

---
Dedication:
to the memory of my parents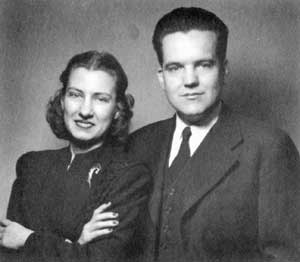 Charles and Mary Hastings, ca. 1944
Contents


Prologue
HICO Is Born, 1944-1946
Laying a Foundation, 1947-1950
Deceptive Prosperity, 1951-1953
Shifting Gears, 1954-1955
Everything Goes Right, 1956-1967
A Teledyne Company, 1968-
Transition
Appendix




Original 1979 Preface,
to the Printed Edition


While I was visiting in Virginia in the fall of 1977, Dot Comstock, my aunt, mentioned to me that the idea had germinated among several people at Teledyne Hastings-Raydist that the story of the company deserved to be put into a permanent form. She wondered if I had any interest in such an undertaking. Over the next few days I thought about it, and the more I thought about it, the more I liked the idea. Before I left, I told her and people at Hastings-Raydist that I wanted to take on the project, and that I planned to write an informal history, filled with photographs, capturing the adventure and spirit of the company's history.

It was one of the best decisions I have ever made, for researching, writing, and publishing this book has turned out to be one of the most rewarding experiences of my life.

As the daughter of Charles and Mary Hastings, I had a head start in working on such a project. Most of the events in the book I learned about at least in a general way at the time they occurred. Many of the people who have been closely involved with the company I have known as family friends as long as I can remember. Both my husband and I are former company employees, each of us having worked there for a summer during our college years.

more >>